IR Remote Control Code Analyzer 2011 - Professional
YG-920 V10.0
Extraordinary quality
IR Remote Control Code Analyzer 2011 - Professional Edition User Guide(Chinese)

IR Remote Control Code Analyzer 2011 - professional user's guide
100MHz dual-channel digital storage oscilloscope & IR remote control code analyzer 2 in 1
---

[Links]


"IR Remote Control Code Analyzer 2009 - Professional Edition" release oration


Copyright Certificates


Support remote control format list


Display format analysis and annotation information case diagram


Display encoding information case diagram


Show the simulated wave case diagram


Error-pulse case diagram


Generated reference waveform case diagram


Virtual key case diagram


Test case diagram for mass production


Historical Version 2008 Professional


Historical version V6.0 Professional Edition


Historical version V4.01


Historical version V3.3
---

[Buildup]
Name: infrared remote control code analyzer
Supporting software 1:Infrared Remote Control System 2011 - Professional
Supporting software 2:IR Remote Control Code Analyzer 2011 - Professional
Supporting software 3:Remote tolerance production tester Professional V2.0
Supporting software 4: PC Universal Remote Control Professional V3.0 V3.0
Sampling Equipment: Standard YG-920 V10.0 (RS-232 + USB2.0 interface)
Other Accessories: Power Adapter, RS-232 communication line, USB communication cable, software CD-ROM
---

[Update records]
Last updated :2011-02-20

IR Remote Control Code Analyzer 2011 - Professional Edition recent update records
---

[Software Features]


Clear and stable on your computer to display the waveform signal integrity, which is a lot of scope unattainable.


Can test the pulse width, code string length, data bits, boot code, customer code, data code, duplicate codes.


Support user-defined decoding.


Automatic preservation of historical records.


Four-channel waveform display for easy waveform, each channel supports two kinds of operation.


Supports more than 150 kinds of standard encoding formats.


Support more than 200 kinds of air conditioning remote control codes.


WINDOWS programming, user-friendly, beautiful, you can set your favorite interface.--- 2009 version of the interface even more luxurious fine


The channel can choose to update the wave animation, there are rolling, refreshing style, type, and so from the far to near.--- New 2009 version


Waveform data storage, access, share.


Wave amplification, with an average show.


Can transmit signals or receive the first phase of the output signal phase display waveform, note that the two signals is inverted.


Wave drag functions, such as the drag from the oscilloscope waveform window to save favorites.


Measuring the time between any two points.


Large character display test results, the carrier frequency, can be used for production test.


A detailed analysis of the known code, including code division clients, key code division, the division of each mode of the data is requested fine. Support for pulse interval modulation, phase modulation, high and low modulation, etc..--- New 2009 version


View format decoding information, including the definition of bit time, the carrier frequency, median, modulation, bit sequence, reference waveform.--- New 2009 version


Generated reference waveform, according to the definition of the current channel and time format and the current results to generate a reference waveform.--- New 2009 version


Show the simulated carrier.--- New 2009 version


Error level mark, when the decoding error, the waveform can be marked wrong position.--- New 2009 version


Option 10 hex or 16 hex displayed.--- New 2009 version


Simulated keyboard keystrokes action, through this feature can automatically enter the results into other software, such as WORD, EXCEL, etc., the same as typing in the keys.--- New 2009 version


2011 version fully supports Simplified Chinese, Traditional Chinese, English, Win98, WinMe, WinNT, Win2K, WinXP, Win2003, Vista, Windows 7 operating system.


Support in English Pronunciation key code, read the carrier.


With the "remote control detector produced tolerance Pro V2.0", can be used to detect the remote control volume production line.


With "computer Universal remote control Pro V3.0", can realize remote control of computers.

[Characteristics of the sampling equipment]


YG-920 V8.0/V10.0 Sampler 32-bit processor, 100MHz frequency, high-precision measurement, resolution of 0.1 microseconds.


USB2.0 interface for fast transfer of data to improve batch test speed.


Supports up to 8 seconds sampling time, the longest 1024's remote control commands, ensure that the right to receive all the color TV, VCD, DVB, and air conditioning remote control commands.


While maintaining RS-232 interface, compatible with early computers.


Directly receiving the signal from the remote control, do not disassemble the remote control.


Support 38K carrier, 56K carrier,non-38K carrier, no carrier infrared remote control signal.


Support the carrier frequency test.


Dual infrared tube receiver.


[Applications]


Professional developer of infrared remote control for the development of test.


Infrared remote control manufacturers, production test.


Infrared Remote IC suppliers.


Smart home developers, developers infrared remote control terminal.


Appliance development, toy development.


Can be used to test RF remote control signals (such as PT2262), test serial signals.
[Comparison of old and new sampling equipment]
| | | |
| --- | --- | --- |
| Comparison Project | YG-920 V8.0/V10.0 | Previous product |
| Processor | 32-bit, 100MHz frequency | 8, FSB 22MHz, internal 4MHz |
| Resolution | 0.1uS | 1uS |
| USB Interface | True USB2.0 | USB to serial port mode |
| The longest median received instruction | 1024 | 512 |
| Maximum sampling time | 8 seconds | 4 seconds |
| Integration | High | Low |
Infrared Remote Control Code Analyzer as a product has been sold to Guangdong, Jiangsu, Zhejiang, Anhui, Fujian, Beijing, Shanghai, Chongqing, Taiwan, co-workers big, Hong Kong and other places, unanimously praised by users, the following table only lists part of the user.
Taihe Electronic
Run Di Electronic Shenzhen
An Electric Co., Ltd. Hangzhou Hangzhou
Bao Electric Appliance Co., Ltd. Shenzhen Rolands
Fujian Yinxiang electronic firms
Refrigeration Equipment Co., Ltd. Wuxi Huawei
Sheng Digital Technology Co., Ltd. GUANGZHOU
Wuxi of East China Institute of SCM
Jiangsu Zhenjiang Hui Tong Group
Shenzhen Innovation Technology Co., Ltd. Group
VeriSign Industrial Co., Ltd. Shenzhen
Shenzhen Xinda Electronic
Best Electronic Products (Guangzhou) Co., Ltd.
Good electronic goods (Wuhan) Co., Ltd.
Electronics factory in Dongguan Hengyu
Harbin Institute of Technology National University Science Park
Guangzhou Huayuan Electronic
Shenzhen Intelligence, Electronics
Shenzhen point into gold
Shenzhen Konka Group Co., Ltd.
Electrical Equipment Factory, Zhejiang University
Beijing Ethernet company
Zhejiang Wenling beyond electronic
Jin Chen, Jiangsu Wujin City Electric Co., Ltd.
Junior Chamber International Malaysia
Dongguan Sentai Electronics
Technology Co., Ltd. Beijing Century Courier
Dongguan up Qi Electronics
Technology Co., Ltd. Shenzhen precursor
Electronics Co., Ltd. Shenzhen Jin Pute
Guangzhou Helen E
Tianchang long electrical
Source of Electronic Shenzhen Ji Jie
British Put Shenzhen Electronics Co., Ltd.
Electronics factory in Dongguan and Jenny
 
New Spirit Technology Development (Shenzhen) Co., Ltd.
Tang Changsha Information Technology Co., Ltd.
A Chinese Semiconductor (Shenzhen) Co., Ltd.
Set Feng Technology Co., Ltd. Shaanxi Baoji
Dongguan Jing products companies
Shenzhen Hua Jing
Guangzhou Science and Technology Co., Ltd. with the past
Holtek Semiconductor (Shanghai) Co., Ltd. Shenzhen Branch
Fourth Military Medical University
Rittmann-HF-Technik Germany (Germany)
"Sara Wernau" Ltd Poland
Taiwan's 10-speed
Shanghai Hi-
Hangzhou Silan
Shanghai Belling
Suzhou group of up to
Guangzhou Chang-dimensional
Taiwan Jinming Kai Corporation
Industrial Electronics
Ssangyong Electronic Appliance Factory
Taiwan Dong Ming Electronics
Long e-Changzhou Chang
艾法科 Technology
Princeton Technology Taiwan
 
 
 
 
 
 
Infrared Remote Control Code Analyzer - Copyright Certificate (click to enlarge)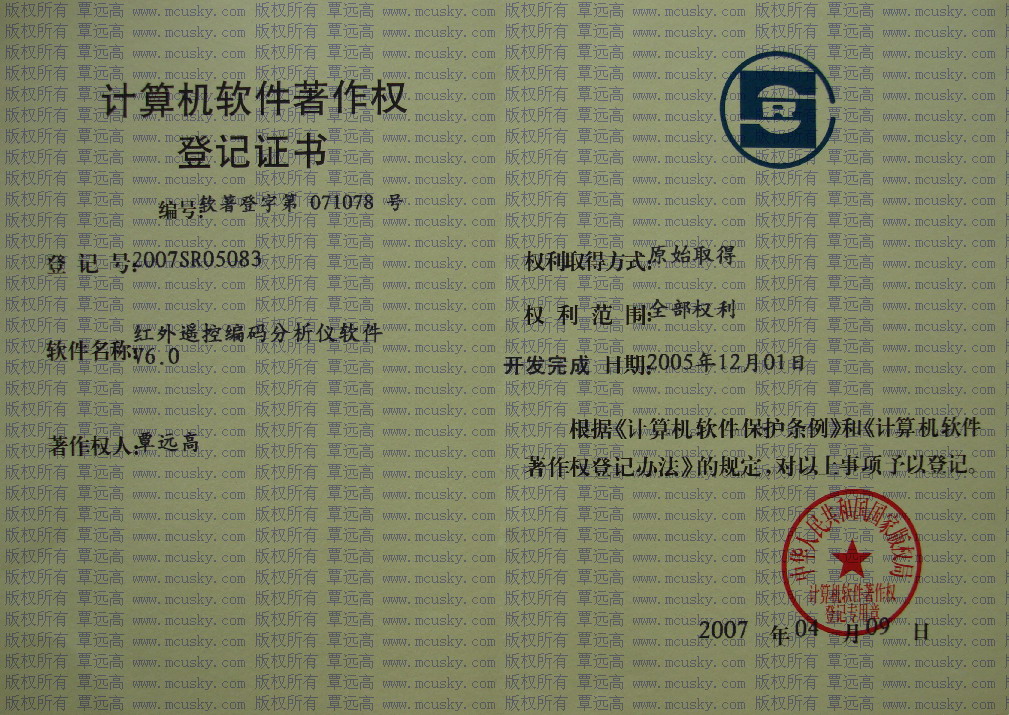 Infrared Remote Control Code Analyzer 2009 - Professional Edition --- software interface (click to enlarge)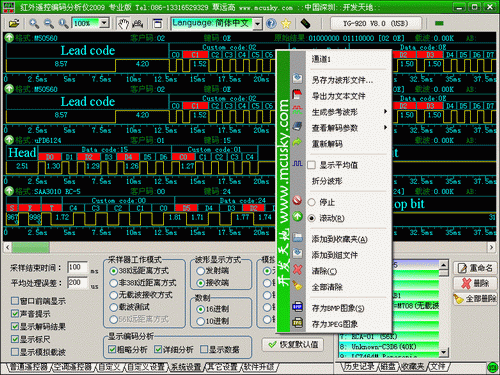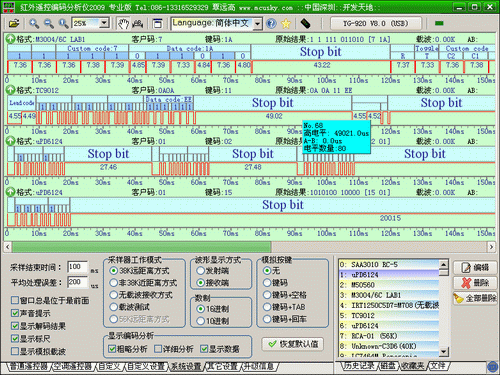 Standard sampling equipment YG-920 V10.0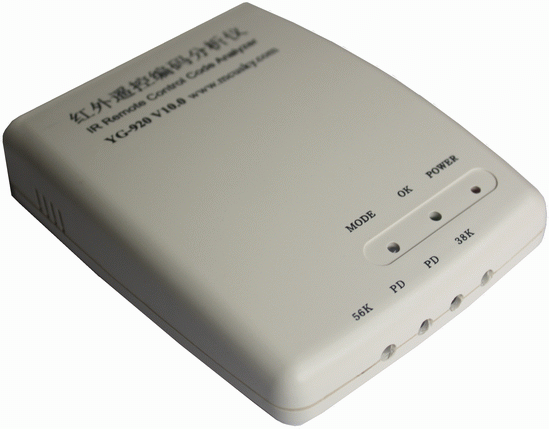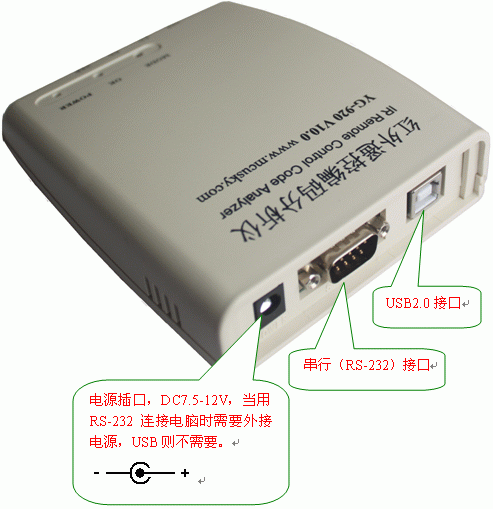 Batch testing for production line